Perhaps you recently heard Elan School mentioned in the murder trial of Michael Skakel. In 2003 Michael Skakel was convicted of the brutal slaying of Martha Moxley back in the 1970s. He is the nephew of Ethel Skakel-Kennedy, widow of the late Senator Robert F. Kennedy. Elan is a controversial synanon in Maine for troubled rich kids founded by Joe Ricci who learned how to play The Game at Daytop (an early Synanon imitator). Like theStraights Elan has been plagued with accusations of child abuse. Or at least the 1970s Elan has been acussed of abuse. Like Straight there have been allegations of beatings, humiliation, and degradation at Elan. As in Straight there seems to have been pressure put on kids at the 1970s Elan to be honest. During one of these honesty sessions Michael Skakel allegedly admitted to the murder of his neighbor Martha way back in the 70s, but nothing ever came of it. Or at least not till 25 years later.
The politics of juvenile rehabilitation. Besides allegations of child abuse at theStraights and Elan, there are other striking similarities between the two programs and their principals. theStraights and Elan were filled with the children of judges and other prominnent parents. Straight's co-founder Joseph Zappala bought a horse race track in Arizona; Joe Ricci bought one in Maine. Mel Sembler likes to pride himself in making the governor; Straight parent Clayton Williams ran unsuccessfully for governor of Texas promising, if elected, to build $100 million worth of Straight-like programs all over Texas, and Elan's Joe Ricci ran unsuccessfully for governor of Maine. WWASPS is another controversial juvenile rehabilitation program which has been accussed of abuse. Founded by Utahian Robert Lichfield, WWASPS has treatment facilities in remote locations in the American west and in remote locations in various other countries. Last year WWASPS donated $215,290 to the Republican Party making it the biggest Republican corporate donor in Utah. Tennesseean Lamar Alexander was Mel Sembler's choice for President until he lost the primary bid against George Bush. Now Senator Lamar Alexander has hired Marguerite Sallee as staff director of the Senate's Children and Families Subcommittee. And who is Marguerite Sallee? She is the former CEO of the Browns School a leading national provider of speciality schools for our youth. And, yes, there have been allegations of abuse at Brown Schools.
Some fallout from the Skakel trial was that former Elan students testified as to the abuses at that early Elan. And that has rekindled interest in Elan. Fornits has a discussion forum here and there is another on MSN menancingly called TimeToCloseTheDoorsOfElan. Is there a class action suit afoot? As with the Straight survivors' crowd there is that statue of limitations problem, but have there been fresh allegations leveled against Elan?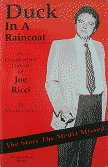 In addition to the discussion forums there is a book that tells of the horrors of early Elan. Maura Curley used to work for Joe Ricci and has written an explosive biography on him. Her book is Duck In A Raincoat An Unauthorized Portrait Of Joe Ricci. It is a book about a man who persuaded 60 Minutes to broadcast a flattering segment about his life, a jury to award him $15 million, and prominent parents and judges to send children to Elan. Mrs. Curley's book is the behind the scenes story of Joe Ricci--the story the media missed. Her unauthorized portrait of Joe Ricci is the product of more than 300 interviews and nearly three years of intense research. I read it and was shocked. Click on the book cover to order Mrs. Curley's book. Price: $14.00.