Sembler allies with NAACP to counter Uhuru claims of racism
by Wesley Fager (c) 10/18/03.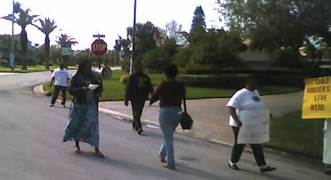 Since the fall of 2003 the Uhuru have been protesting the Sembler-built and operated Bay Walk shopping complex in St. Petersburg, Fl. for alleged racism. On Valentine's Day+1 2004 the political action group joined with the Straight Awareness crowd to protest at Ambassador Sembler's US residence in Treasure Island, Fl.
I know Craig Sher; I know Mel Sembler. I believe these are fine, caring, committed individuals and community people. I would accuse neither of being a racist."
Darryl Rouson, director of St. Petersburg Chapter of the NAACP and a Mel Sembler business partner.
What we're trying to do is just say, 'Hey, everybody deserves a share of the economic pie.' Let's embrace this and let St. Petersburg be symbolic of a pluralistic society.
Trenia Byrd Cox, Second Vice President of the St. Petersburg Chapter of the NAACP, speaking at a joint Sembler Company/NAACP Diversty Weekend at Sembler's $40 million BayWalk shopping mall and entertainment center. Trenia Byrd Cox was one of the major planners for events at the festival.
The time has come - actually, it came years ago - for so-called black leaders, such as the ever-strutting Uhuru boss Omali Yeshitela, to shut up.
Bill Maxwell, St. Petersburg Times staff writer.
On Oct. 24, 1996 St. Petersburg Police Officers James Knight and Sandra Min stopped a car for speeding in a black section of Saint Petersburg known as Midtown. There are conflicting accounts of what happened but the result is that Officer Knight tragically shot and killed the driver of the vehicle, a young black man named TyRon Lewis. A subsequent grand jury investigation absolved Officer Knight of any wrong doing which set off a race riot in Saint Petersburg that resulted in $6 million worth of damage and almost cost then Mayor David Fischer his mayorship. Many feel that the Uhuru, a political party seeking social justice for blacks, was at the heart of the protests. A subsequent report by the U.S. Civil Rights Commission found that, among other causes, the destruction of black neighborhoods in order to build Tropicana Field to lure major league baseball to St. Petersburg compounded the frustrations of the rioters. Tropicana Field is sponsored by The St. Petersburg Times which seems nowadays more interested in becoming a big business than a news agency. (The Uhuru claim that the Times sides with the police in its issues with law enforcement.) In February two Uhuru men including a man named Keith Stewart, nephew of the local Uhuru leader, were arrested in a scuffle with the police at an apartment complex formerly named Bethel Community Heights. Today the Uhuru have a gym named for TyRon Lewis.
| | |
| --- | --- |
| Uhuru Keith "Mtundu" Stewart (right) was arrested at BayWalk on Oct. 3, 2003 for inciting a riot. | |
On October 3, 2003 the Saint Petersburg Police arrested three black men for causing a disturbance, they say, in Wet Willies Bar at BayWalk, the $40 million shopping center built and operated by Sembler Company. One of those men was the same Uhuru Keith Stewart that had been arrested in 1997. Stewart has been charged this time with inciting a riot--a felony. Ever since the Uhuru have been picketing BayWalk on Friday nights carrying signs like BayWalk Is For Whites Only. The Uhuru accuse the police of racial profiling in the matter and accuse the Saint Petersburg Times of siding with police in the matter.[2] The story of the Uhuru complaint is here.
There have been other complaints against Sembler venues. Last March, John Sugg, writing for Creative Loafing--Atlanta [03.12.03] about Sembler's shopping center in Tampa's Centro Ybor, wrote that [Sembler Company] "made clear that it didn't much want the artists, kids, frolickers and minorities who had long called the area home. The company has Gestapo rules for patrons -- wearing your baseball cap turned backward will get you booted (I'm serious)." This sentiment was echoed recently by Uhuru member Cassandra Floyd who made this public statement: "The police are harassing Africans, telling them they can't wear their hats sideways."
Statistics released by the St. Petersburg Police Department last December show that of a total of 62 black kids and white kids under the age 18 who have been banned from BayWalk through September, 60% are black even though only 1 out of every four citizens of St. Petersburg are African Americans. Steve Althoff, vice president of Sembler Co., publicly announced that, "This summer, we took back BayWalk. We were overrun with teenagers, and we went in and stopped the kids with unruly behavior, and so a lot of kids all around St. Petersburg and Pinellas County felt like they were being harassed."
St. Petersburg, Fl. has a history of
racial tensions
between blacks and the Police Department
Racial tensions between the St. Petersburg Police Department and the city's black minority dates back to 1992 when Police Chief the Ernest "Curt" Curtsinger was fired by interim City Manager Don McRae because of complaints from the city's African-American community. Curtsinger sued the city and the city settled out of court with him for $585,000.
In 1997 Mayor David Fischer appointed Goliath Davis III as St. Petersburg first black police chief. But Chief Davis was accused of discrimination. He retired in 2001 and was replaced by a former police chief Mack Vines. Today Davis is deputy mayor of Midtown economic development, the black neighborhood where TyRon Lewis was killed.
Mayor Rick Baker re-hired former Police Chief Mack Vines even though Vines had been fired from his job as Chief of Police for the Dallas Police Department after being arrested and charged with perjury in 1990. He had been accussed of lying to a panel which was investigating the firing of a white officer who had shot and killed an Hispanic person. A jury acquited Vines, but the matter kept him from other top police jobs including the chief's job in neighboring Tampa. But Mayor Baker quickly fired Chief Vines after Vines described the arrest of a black man to 40 detectives stating that the man was "resisting significantly to the point of almost like an orangutan." The Uhuru-backed Citizens United for Shared Prosperity called for Vines removal, but Rouson did not, though he did back to mayor's decison to fire Vines.
Vines sued the city and claimed that Mayor Baker offered him a settlement of $51,000 if he would not sue. In 1978 Florida's Department of Rehabilitative Services investigated Straight for alleged criminal child abuse. In retaliation a citizens action group called Parents Associated Inc. was formed to investigate Bob Marshall, the HRS official assigned to head the investigation of Straight. PAI included in its membership Circuit Court Judge Jack Dadswell and Saint Petersburg Chief of Police Mack Vines. Bob Marshall was pressured into giving a negative report on findings of abuse at Straight and then he was fired! [See James T. Russell, Sheriff Genung and the Dale Report.] The year after Chief Vines was fired, a lieutenant on St. Petersburg's neighboring Largo Fire Department, Lt. Jeannine Horton, was fired for allegedly saying, "I am a racist. I hate n------. I hate white trash. . . I'm proud of it."
Coalition Building. In 1978 Florida's Bureau of Criminal Justice Planning and Assistance issued a special report on Straight - St. Petersburg which stated that in its first 18 months of operation Straight had enrolled 450 youths but only one had been black. By contrast Operation PAR, another Pinellas County juvenile drug rehab program, had a population base which varied from 40 - 50 youths–ALL WERE BLACK. In 1993 Mel and his wife Betty closed their white-based Straight under mounting civil suits and criminal investigations. Then Betty joined the board of directors of Operation Par! [See The Infiltration of Operation PAR by former Straight Officials.] Today, Rudy Bradley, R-Representative from St. Petersburg, is on the Advisory Board for Drug Free America Foundation (Straight's latest name). Mr. Bradley is black. Betty Sembler was the keynote speaker at the June 5, 1999 St. Petersburg NAACP Awards Banquet!
Mel Sembler and Walter Loebenberg who was president of Straight Foundation belong to Temple Beth El, a synagogue in St. Petersburg. Craig Sher, CEO of Sembler Company, is the former vice president of the synagogue and his wife chairs the school board for the temple. Leonard Englander, Sembler's attorney, is the former president of the temple. Former temple Rabbi Stephen Moch established a relationship between Temple Beth El and the predominantly black Bethel Community Baptist Church. More recently, in 2003 Rabbi Michael Torop persuaded local NAACP president Daryl Rouson to give a talk at Temple Beth El on the occasion of the 35th anniversary of the assassination of Martin Luther King. (Garnelle Jenkins was NAACP president when Betty gave her speech for the NAACP. Ms. Jenkins retired in January 2001 and was replaced by attorney Daryl Rouson.)
Rick Baker is the Republican mayor of Saint Petersburg. He is also on the Advisory Board for Straight under its current name (Drug Free America Foundation). Before he ran successfully for mayor in 2001, Rick Baker had his two children baptized in an African-American church. During his campaign Baker visited black churches on Sundays. Daryl Rouson supported Rick Baker and even accompanied Baker to Bethel Metropolitan Baptist Church where pastor Rev. Joaquin Marvin called Baker "Brother Mayor" before turning over the microphone to him.
Bethel Metropolitan Baptist Church may be a sought after prize for white candidates seeking black votes, but not all pastors there have been entirely immune from the corruption that seems so pandemic in Pinellas County, Florida. Soon after Rev. Marvin came to Bethel in 1999 it was learned that in 1991 he had been sentenced to two years of community control for forgery. According to the Saint Petersburg Times, state records show that Rev. Marvin was arrested several times between 1986 and 1991 on charges including "shoplifting, assault, and possession of crack and marijuana."
Rev. Marvin had been selected to replace Rev. Henry J. Lyons. Rev. Lyons had been a high level official of the National Baptist Convention (NBC) and a member of the board of directors for the national NAACP in addition to being pastor of Bethel Metropolitan Baptist Church. Like Vernon Jordan he was a confidant of Bill Clinton. He was a principal of the Florida Institute on Black Substance Abuse, Inc. and the Florida Institute on Drugs and Substance Abuse, Inc. On Feb. 27, 1999 Rev. Henry J. Lyons was convicted by a Pinellas-Pasco jury of grand theft and racketeering charges. The jury concluded that Rev. Lyons had swindled millions from the NBC's corporate partners. Lyons and a codefendant were accused of using the NBC's good name to swindle more than $4-million from corporations eager to market items to NBC's 8.5-million members. Lyons was also charged with two counts of grand theft for pocketing most of the $244,500 the Anti-Defamation League gave to him in 1996 to distribute to burned black churches. Lyons had some high profile attorneys including F. Lee Bailey and Anthony Battaglia. After his conviction in state court Rev. Lyons plead guilty to 5 of 54 counts in federal court in return for having 49 counts dropped. He admitted to committing bank fraud, submitting forged documents to the federal government and failing to report $1.3-million in income.
Changing times at NAACP? Rap music star R. Kelly has been nominated for an NAACP Award even though there are allegations that he is a pedophile.
Sembler and Rouson form a coalition. The Uhuru are protesting Sembler's BayWalk for alleged racism including policies, they say, that regulate dress code which they feel are directed against blacks. Ironically, before Rouson became director of the NAACP he himself had organized protests at another St. Petersburg shopping venue, Tyrone Square Mall, to challenge what he perceived to be racially discriminatory enforcement of that mall's dress code. Rouson helped organize a diversity event at BayWalk in February 2004 where he gave a speech in which he declared, "I know Craig Sher; I know Mel Sembler. I believe these are fine, caring, committed individuals and community people. I would accuse neither of being a racist."
Earlier this year the city of St. Petersburg paid $1 million for 3.7 acres of land in Midtown. Mayor Rick Baker has said that the city intends to have a shopping center built there which will include a grocery store. The city purchased the land as an inducement to get potential developers to bid on the project. During the week of September 8 the city asked for bids to develop the site giving high noon October 17 as the bid cutoff date. The Saint Petersburg Times reported on the city's plan in an article dated September 14. In preparing that story Times reporter Sharon Bond called Craig Sher, CEO of Sembler Company, to ask him his thoughts on the city's plan for Midtown since at the groundbreaking for the University Village shopping center he had said it's time development ideas focused on Midtown. Sher responded that he had no comment on it right now.
Mel Sembler is for the privatization of government. He has proposed a plan to force all kids to be drug tested as condition to get a driver's license. Read now the implication of his plan to minority groups in America.
link
Then, somehow, just before high noon on October 17, the day of the bid cutoff, the Saint Petersburg Times learned that Larry J. Newsome of Urban Development Solutions Inc. had stated that his company would be placing a bid to develop the Midtown property. That they hope to build a Kash n' Karry supermarket on the site. What's more the Times reported that Darryl Rouson, director of the local chapter of the NAACP, was a member of Urban Development Solutions and that Sembler Company had partnered with Urban Development Solutions for the Midtown bid! The apparent significance of this is that win or lose the bid the Sembler Company would be advertised to the public as a company that forms partnerships with blacks. In other words a newspaper normally reports on the winning bidder of a contract--not on just one potential bidder for a contract. This would seem to make the St. Petersburg Times a coconspirator with Sembler to help him bolster his public image in dealings with minorities. It would have been awkward for the St. Petersburg Times to have reported on October 18 that there were eight bidders, that XYZ company was the winning bidder, and that Sembler Company had partnered with a minority firm which includes the director of the NAACP to unsuccessfully bid on the contract. [Turns out Sembler Company-Urban Development was the only bidder and got the contract anyway.]

The Uhuru and the Straight Awareness crowd feel they have many common issues with Mel Sembler and consequently on February 15, the day after Valentine's Day, they staged a joint protest at Mel Sembler's Treasure Island home. The story of the protest is here and here. The Uhuru say they'll be back.

Now the Uhuru are calling for the removal of Darryl Rouson from the NAACP. That's what can happen Mr. Rouson when you become Mel Sembler's friend or join Straight's Advisory Board.

Footnotes