---
For latest developments, click here.
For the official PumpGate web site, click here.
To follow PumpGate through the courts, click here.

Note: Log on as a "non subscriber" and use case number 03006649CI or 522003CA006649XXCICI
..

Below is the ad Ray Bradbury placed on eBay which brought on a lawsuit by the Semblers.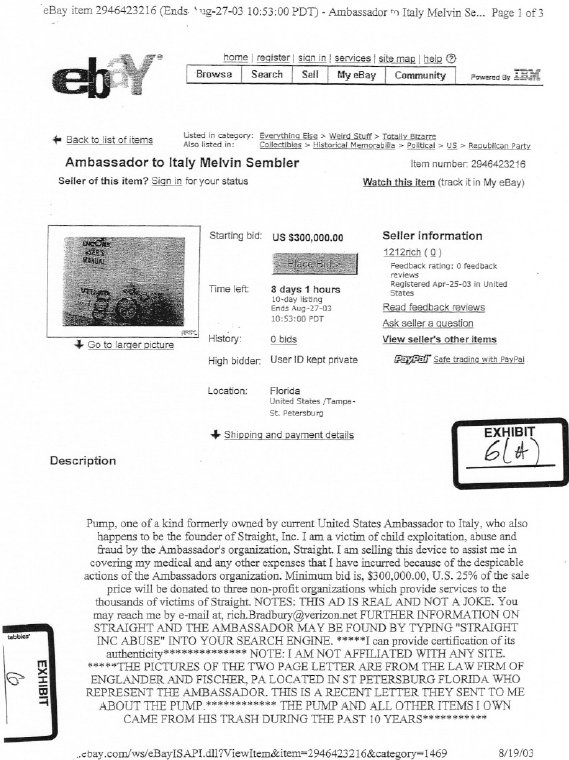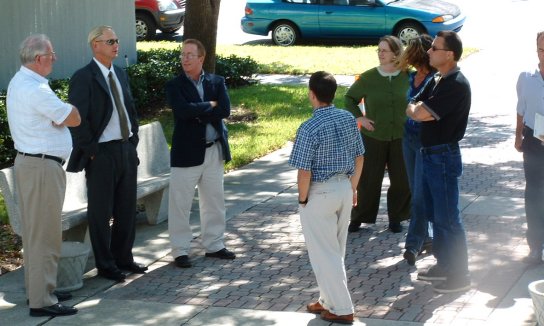 ss

Ana-Maria Carnesoltas leaving the courthouse.

Dateline: St. Petersburg, Fl., 11-5-04. Ray Bradbury, above left, waiting outside the court house today with some supporters. Preliminary reports from the Bradbury camp are calling this a great victory with Judge Rondolino agreeing favorably on most points of law argued by Bradbury's attorney Tom McGowan. The judge has given the Sembler's attorney Ana-Maria Carnesoltas of Englander and Fisher two weeks to prepare a legal rebuttal to McGowan's Memo Supporting Bradbury's Motion to Compel. Pages 2, 9 and 10 make one wonder whether Bradbury is now only being sued for a nominal amount such as $1.00. Pages 9 and 10 address the issue of misrepresentation to the court. [We have not yet received a report from Sembler's camp. Ed] Here is Englander's / Carnesoltas' written reply to the judge. reply

Meet the plaintiffs.

Plaintiffs. On the left is plaintiff Ambassador Melvin Sembler, AO before he hired the law firm of Englander & Fischer to represent him in a civil suit against his long-time nemesis Ray Bradbury. In the middle is Ambassador Sembler after he hired Englander & Fischer! On the right is co-plaintiff Betty Sembler--the ambassador's wife.




The plaintiffs are US Ambassador to Italy Melvin Floyd Sembler, AO and his wife Betty Sembler, known in some cirlces as Mrs. Ambassadorable. Ambassador Sembler is a multimillionaire who has made his fortune building and managing shopping centers. Mel Sembler is a shrewd businessman used to getting his way. Like most politically appointed ambassadors Mel Sembler bought his way in. The Semblers run a foundation for national and international drug policy. That foundation is the Drug Free America Foundation (DFAF). DFAF used to be called Straight, Inc.

Straight was the world's biggest juvenile drug treatment program in its day. On his web page for the US Embassy in Rome Ambassador Sembler boasts that he and Betty successfully graduated 12,000 kids at Straight. At his Senate confirmation hearing Mr. Sembler boasted that he and Betty had saved 12,000 kids from drug addiction. Where did a shopping center magnate get his idea to run a juvenile drug rehabilitation program; and why are so many of his former graduates now renouncing their graduate status? The Semblers got the idea of Straight from The Seed, a program which treated one of their teenage sons. A 1974 Senate report likened the Seed's methods to those of North Korean brainwashing. Former Straight graduates are renouncing their graduate status in droves because Straight is a destructive, mind-control cult which uses Communist Chinese thought reform techniques--some of which are not even used by the most traditional newage cults like spitting in a child's face or making him soil his pants. Of course Straight used the more traditional techniques too, like total confession, food and sleep deprivation, isolation, love bombing, deception and so forth. Over forty former clients from Straight and its spinoff programs have committed suicide. None the less, Straight was a popular program due to endorsements from prominent people like Nancy Reagan and former president George H. W. Bush.

Straight is a synanon (more commonly called a therapeutic community) where clients (in this case kids) help in their own recovery. But Straight was rejected by the Therapeutic Communities of America. Straight claimed to be Toughlove™. But Phyllis York, the founder of Toughlove™, denounced Straight's brutal methods. Straight claimed that it was only interested in saving "kids;" yet it marketed almost exclusively to "white kids" whose middle class and above parents could better pay Straight's steep bills. From 1976 to 1993 Straight took in nearly $100 million doing that.


Meet the defendant. The man in the photo on the right is the defendant Ray Bradbury (second from left). The photo shows Mr. Bradbury, along with several others, picketing Mel Sembler's house in 2001. When Mr. Bradbury was a teenager in the early 1980s he visited his sister who was a client in Straigth-St. Petersburg, Florida. Straight would not allow Mr. Bradbury to see his sister until he agreed to an interview. At that interview he says he was kept captive until he agreed to sign himself in for a 14 day observation. [That stunt cost Straight $220,000 for falsely imprisoning Fred Collins, a honors engineering student at Virginia Tech who had stopped in to visit his brother. A federal jury found in his favor for false imprisonment. The story made 60 Minutes.]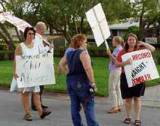 The man, second from left, is Ray Bradbury. Here he is shown protesting at Mel Sembler's house in 2001.
Eventually Bradbury says he succumbed to the extortion, entered Straight, was brainwashed and sexually abused while there. After Bradbury graduated from Straight, like so many other graduates, he became a Straight counselor, thus making Straight a cult in that one never leaves. One day, while boasting to a man about how he was saving children from the ravages of addiction, the man explained to Bradbury that what he was doing was classic Chinese thought reform (brainwashing). Stunned, Bradbury researched brainwashing, and then worked seven long years to close Straight. He finally did in 1993.
Take the quick tour of Straight's abuses:
Quotoble Quotes
And while I generally do not rejoice in other's discomfort it seems just, that the Semlers [Semblers] now suffer some small measure of public humiliation in return for the private hell they imposed on thousands of our children.
.....LastOneSpeaks
But as Straights closed around the country, some Straight officials opened their own second-generation Straights. For example on the very day Straight-Orlando closed in 1992, Michael Scaletta, the director of Straigth-Orlando, took over the clientele in a new program called SAFE. Read the sidebar story about SAFE that tells the story of Jeff Henschel who, according to the Orlando Weekly, alleges, "He was thrown into the 'time-out room,' which he describes as a cold, urine- and bloodstained, concrete-floored closet." The photo inset is Ray Bradbury protesting SAFE in 2000.
Another second-generation Straight Bradbury has visited is Growing Together. Read the sidebar police report that alleges that a client woke up in a bedroom and was sodomized by his old comers who held the boy's body down while one tried to put his penis in the youth's mouth.
Last year Reverend Doctor Miller Newton, Straight's former national clinical director, settled with a former client for $6.5 million for abuses she sustained in his second-generation Straight in New Jersey called Kids. The New Jersey Law Journal has labled the Straight method medical quackery.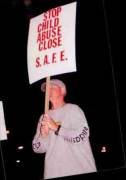 Ray Bradbury pickets SAFE, 2000

From Orlando Weekly's story about SAFE (which was formed out of Straight-Orlando), 1/16/03 by Jeff Billman. Billman wrote about a boy named Jeff Henschel. Billman wrote, "He was thrown into the 'time-out room,' which he describes as a cold, urine- and bloodstained, concrete-floored closet. 'I sat in there, every day all day, for a week with no dinner.' . . . To get attention, and force SAFE to contact his mother, Jeff began cutting himself with his own fingernails. SAFE didn't treat the cuts, he says, and they became infected." When Jeff's mother Barbara visited SAFE for the weekly Open Meetings on Friday nights, Billman wrote, "counselors wrapped Jeff's arms in tube socks to hide the cuts. She was kept physically separated from Jeff, so she couldn't talk to him about his condition. 'If I saw [his wounds], I would have pulled him from the program,' Barbara says." story [Also see WAMI TV expose of SAFE.]
Sodomy alleged at Straight-descendent Growing Together host home dateline Lakeworth, Florida, June 18, 1997. The victim alleged that one oldcomer held his legs while a second jumped on his back, and a third boy slapped him about the face with is penis. The youth tried to put his cock in the restrained boys mouth but the terrified youngster managed to fend off his assailant. This alleged incident occurred at Growing Together, a third-generation Straight. There have been riots at Growing Together. police report.

Like so many Straight survivors Bradbury is not so sure that Straight ever completely closed, and even if it did, he wants to make sure no existing programs which use Straight's therapeutic method, are abusive. So since Straight closed in 1993, and perhaps even before, Mr. Bradbury has being going through Mr. Sembler's trash looking for any data that will help him document Straight's crimes, and also looking to see whether Mr. Sembler has any financial or other ties to any of the new Straights.

Bradbury's purpose for going through Sembler's trash might have been to monitor Straight and the new Straights, but Ray Bradbury says he has found some items through the years that he just wasn't prepared to find. Take for instance classified documents. Last year Bradbury told a television interviewer that he had found things in Ambassador Sembler's trash that he thought would have major national security implications. But Bradbury wasn't telling what those items were. That is not until last month when Lenny Englander, Sembler's attorney, pressed him to file a court document, a public document, describing exactly what those materials are. What Mr. Bradbury filed, if proven to be true, is shocking. He claims that he has found records of travel times of very high-level government officials including former President Bush, arrival and departure times at airports, tail numbers of aircraft used and sometimes even the names of pilots. A would-be terrorist's dream sheet!

Another unusual item Bradbury says he found in Sembler's trash was a penile pump that the ambassador had discarded. Mr. Sembler's attorney has admitted in court documents that the penile pump had in fact belonged to his client and he is demanding it back. Attorney Englander claims that the device was prescribed as a medical device for prostrate cancer. (Attorney Clark Brewster, who represents Sapulpa Oklahoma District Judge Donald Thompson in his case for allegedly masturbating on the bench with his penis pump, claims the judge's pump was given as a gag gift for his 50th birthday.)

For several years Mr. Bradbury stored the items he has retrieved from Sembler's trash. And then one day last year Mr. Bradbury did a most remarkable thing. He advertised for sale on eBay, the penile pump. Why? He says he did it to bring attention to the plight of Straight survivors. Indeed, drawn by this most unusual item for sale, people have learned about Straight

The law suit.

That [Monica Lewinsky saving her semen- stained dress] was seamy, but it got Clinton impeached. . . . It served a purpose.

Tom McGowan, Ray Bradbury's attorney


The Semblers are furious over Mr. Bradbury's ad and are suing him for the intentional infliction of emotional abuse which is ironic because 50,000 kids at Straight, including Ray Bradbury, were intentionally abused emotionally. [Sembler claims 12,000 successful Straight graduates but most kids never make it to graduation. 50,000 is our conservative estimate of the total kids treated.] Also they claim Bradbury is a stalker.

It's difficult to find any data on this bizarre trial other than court documents because Lenny Englander persuaded circuit court Judge Walt Logan to issue a "Temporary Injunction Without Notice" to silence Ray Bradbury. The "Without Notice" clause means that the circumstances were so extraordinary that there was no need to advise Bradbury that the court was going to conduct a hearing to decide his fate without his knowledge.

Judge Logan does it again! First he signs a gag order "without notice" prepared by attorney Lenny Englander to silence Manny Gonzalez from speaking out about problems with Kane's™ Furniture. Then he signs a gag order "without notice" prepared by Lenny Englander to silence Ray Bradbury from speaking out about Ambassador Mel Sembler. And now Judge Logan and his wife are on a dinner committee with Lenny Englander and his wife, Irwin Novack of Kane's™ Furniture and his wife, and Sembler's son Greg and his wife. story

Nine months before Lenny Englander got the same judge Walt Logan to issue a "Temporary Injunction Without Notice" to gag another Pinellas County man--Manny Gonzalez. That gag made it to USA Today. The state of Florida is suing a big furniture company named Kane's™ Furniture for fraudulent business practices. The Better Business Bureau has reported on Kane's. And a man named Manny Gonzalez used to run a web page that told of the problems at Kane's™. Judge Logan silenced Gonzalez, denying him his Constitutional right to defend himself, basing his decision on the fact that Kane's™ is a trademark and that Gonzalez used the name Kane's in the name of his webpage.


The Florida Holocaust Museum was founded by former Straight Foundation president Walter Loebenberg. Mel and Betty Sembler are or have been board members and their attorney Leonard Englander is on the board of directors of the Florida Holocaust Museum. This past February the Florida Holocaust Museum held an event. On the dinner committee was Mel and Betty Sembler's son Greg and his wife Elizabeth; former Straight board member and former acting director of the Florida Holocaust Museum Dr. Bruce Epstein and his wife Amy, Craig Sher (CEO of Sembler Company) and his wife Jan (who is on the board of trustees for the museum); board trustee member Jim Soble who is legal council for Sembler Company and his wife Ann; Irwin Novack of Kane's™ Furniture and his wife Patty; and Judge Walt Logan and his wife Lin!

Not surprisingly people knowledgeable about the sins of Straight have been protesting the Florida Holocaust Museum. In an related story members of the Uhuru, a political group seeking social justice for blacks, has been protesting one Sembler built and managed shopping center claiming racism. The Uhuru and the Straight crowd have combined for one protest at Ambassador Sembler's American residence.

The Semblers' attorney says that Ray Bradbury has no motive, that "this guy exceeded all sensibilities here?" But Bradbury does have a motive, of that there is no denying. Is PumpGate just another SLAPP suit to hide the truth about what happened at Straight. In the final analysis the question won't be who was wronged here: Mel and Betty Sembler or Ray Bradbury? The question will be who was wronged here: Mel and Betty Sembler or 50,000 American kids? And that is what PumpGate is all about.

reprint 11-05-05 PumpGate becoming bad business for Sembler Company blog

8-13-05 Betty Sembler deposed on pumpgate Betty Sembler, wife of former US ambassador to Italy Melvin Sembler, was deposed on Friday, Aug. 12, 2005.

8-10-05 Bradbury deposed on Monday; Betty's turn Friday Ray Bradbury finished his deposition on Aug. 8. Mrs. Sembler is scheduled for Aug. 12. As far as we know she has not yet canceled.

7-30-05 Betty to be deposed August 12-sure. So what was wrong with BS Day? story

7-26-05 Betty Sembler to be deposed--finally--or will she? As it stands now Ms. Sembler will be deposed on Aug. 12 and each day thereafter until her deposition is done. Mr. Bradbury will face part 2 of his deposition on Aug. 8.

Path cleared for the Semblers' depositions link

6-03-05 Judge Rondolino denies motion to compel Semblers to be psychologically evaluated link

Looks like Mel and Mrs. Mel will be compell---ed to visit Bradbury's shrink motion

Judge Rondolino will hear a motion on May 23 on whether Ambassador Melvin Sembler and Betty Sembler will be required to undergo independent psychological medical examines

Hearing scheduled in January A two hour hearing in the matter of The Semblers vs Ray Bradbury is scheduled before Judge Anthony Rondolino on January 24, 2005 for the purpose of presenting Plaintiff's Motion for Contempt Order and for Sanctions and Memorandum of Law.

Big break in PumpGate: Did Ambassador and Mrs. Sembler misrepresent themselves to the court? story Related stories: (1) There will be an important PumpGate hearing before Judge Anthony Rondolino on November 5 at 1 PM at the Pinellas County, Florida Circuit Court. (2) Judge Rondolino orders mediation in PumpGate link (3) where on earth are mel and betty sandiego? story (4) Washington Post covers PumpGate story

Update 8/2/04: Ray Bradbury was scheduled for his deposition on Tuesday July 27, 2004 but, not surprisingly, this did not occur. In fact, this is the fourth time Lenny Englander (Ambassador Sembler's attorney) has canceled Bradbury's deposition. As far as we know Ambassador and Mrs. Sembler have yet to be deposed themselves. Thursday July 29 did bring a surprise however. Judge Anthony Rondolino (the trial judge) signed an Order for Mediation for PumpGate. Mediation is a process where two disputing parties meet with an arbitrator or mediator with the hope of settling their differences out of court. According to the judge's order the parties have 10 days to decide upon the date on which the mediation will occur.

Bradbury seeks relief from Sembler's attorney 1/24/2004 Ray Bradbury was deposed in the matter of PumpGate on December 7. The Semblers have yet to be deposed. Bradbury allegedly suffers from Straight-induced Post Traumatic Stress Syndrome and his psychologist has recommended that further "harrassing" questions from Leonard Englander could cause him physical harm. Tom McGowan, Bradbury's attorney, has filed an emergency motion to stop part 2 of Lenny Englander's deposition of Ray Bradbury which had been scheduled December 15. The motion will be heard on Jan. 24. A contempt hearing previosuly scheduled by Englander for Jan. 24 has been postponed. doc

Motions scheduled link

Semblers will not be deposed Tuesday The Semblers have filed a motion for a protective order from being deposed. Bradbury has been granted an emergency hearing at 0830 tomorrow (Jan. 11, 2005) to hear his motion on the protective order. Original order.

After four cancelations by Lenny Englander, Ray Bradbury finally to be deposed today. dateline St. Petersburg, Fl., 12-07-04 Depositions set for Straight founders Ambassador and Mrs. Sembler on January 11 link

Read these related stories:

Former US Ambassador to Israel, Martin Indyk, is first and only US ambassador ever to have his security clearance suspended State Dept brief CNN

US Ambassador to Italy wants his penis pump back in Cult News

Mel and Little Mel by Radley Balko


WFTS-28 ABC Action News Tampa by Robin Guess on Ambassador Sembler's suit against Ray Bradbury. story

Sembler's suit against Bradbury makes front page St. Pete Times.
.story;..email editor; email author Richard Bockman

New site allows you to follow PumpGate through the courts. link

First time ever Mel Sembler is asked in a court of law about Straight's crimes. story

Sembler appears to concede that it is possible that Bradbury could have found NATIONAL SECURITY MATTER materials in his trash can. story

Walter Loebenberg and Reverend Doctor Miller Newton to be deposed in PumpGate. story

The 6th Circuit, State Attorney McCabe, Sheriff Rice and Lenny Englander get drawn into PumpGate.e story

New report questions legality and ethics of Logan's injunction against Ray Bradbury. report

New site on PumpGate. link

LET'S GET READY TO RUMBLE: Mel and Betty Sembler to be deposed about their role in Straight. story

Bradbury fights back. On 9-22 McGowan filed a motion to strike, dismiss and to give a more definite statement. motion


The story grows: Mr. Englander gave the Ambassador some bum advice. story

Why you should help Ray Bradbury and how. commentary


To learn more about the Straight cult, visit:
To learn more about Straight's controversial cofounder Melvin Sembler read his unauthorized biography at:

Footnotes:
Erinys 1. [Gr] - An avenging deity; one of the Furies; sometimes, conscience personified. (From hyperdictionary)
2. the three ancient furies - "detectors and avengers of crime and wickedness, goddesses of vengeance." (From Erinys Productions)